Texas Tech and VASE Art Competitions
Hang on for a minute...we're trying to find some more stories you might like.
Artists rose to the challenge in various art competitions earning their spot in the next level of VASE and Texas Tech University art competitions. With competition season on its way and opportunities to compete in different subjects, students have been rushing to participate. Within the past month, many students have been asked to take part in various art competitions.
AHS students Lily Chappell, Patience Burr, Karsen Boyett and Elijah Voller have all advanced to the next stage of the Texas Tech High School 150 Art Competition. Three other art students, Hannah Griffin, Marak Morgan and Cadence Lowery-Hart have advanced to the next stage of the Visual Arts Scholastic Event, or VASE.
"It took me a little over a month to complete my project, partly, because of the detail I tried to put into it but also because of work and homework, as well as procrastination," Voller said.
The students who competed put a lot of their time and effort into these projects and their work ethic brought them to the next stage of their respective competitions. The precision and detail brought to these paintings by the artists played a major factor in their results of where they stand in the competitions.
"Jesus is the true vine," Voller said. "The skulls are those who did not abide in Christ and subsequently shriveled up and died. The grapes forming from Jesus' blood is to show new found life in His sacrifice. The grape vine forming from His blood is also a reference to communion."
While some students have deep meaning behind their art, others who participated did it for the joy they feel when painting or drawing. Art for them is not a serious thing, it is just an activity they do for fun and are good at creating.
"There wasn't a real meaning behind my art," Boyett said. "I just set up objects from around my house and drew them. I just really enjoy drawing and coloring, so it was fun for me to enter this competition."
Each piece of art had unique aspects that caused it to stand out among the other pieces being considered. Color, shading, storytelling and symbolism are some of the features used in these paintings that excelled the others. These students' art pieces will now be displayed and considered for the next round of competition.
"I'm really happy and excited that I'm advancing because I am a huge fan of Tech," Boyett said.  
About the Photographer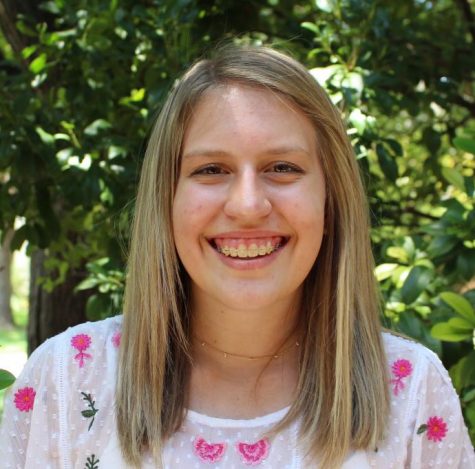 Lindsey Bolin, Graphic Design Editor
My name is Lindsey Bolin and I'm a first year staffer. I love avocados and I work at United. I am the Historian for the Bel Canto choir and I film varsity...