Tips for the Freshmen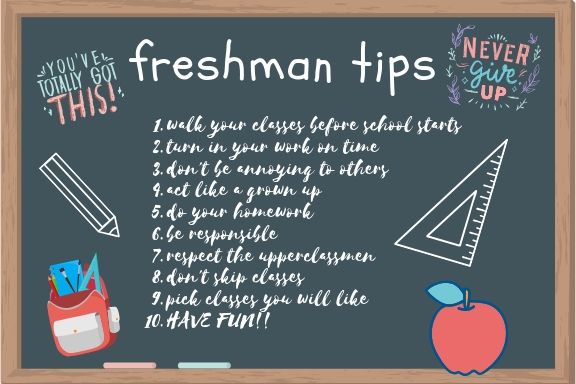 Transitioning from middle school to high school is a hard adjustment. Many upper class men will agree that knowing a few tips will help freshmen get through their first year.
"If you study hard, follow directions and turn in your work on time, the year will fly by and be so much easier than you thought it would be," junior Brooklyn Tenorio said.
Throughout the years of high school students will begin to carry less and less. Your first year, you will have a lot of things to hold in your bag since you do not know what to carry.
"I try to carry as little as I can. I only carry three folders, a couple of binders and a few pencils. I don't really carry things I don't need or that is extra," sophomore Josh Proffer said.
The main thing that freshmen tend to struggle with is not knowing where their classes are the first few days. Only a few freshmen will walk their classes before the first day of school.
"I walked my schedule before so I knew where all my classes were so I wouldn't struggle finding them on the first day. When the first day came around, I didn't struggle finding any of my classes, " freshman Taylor Held said.