Solo and Ensemble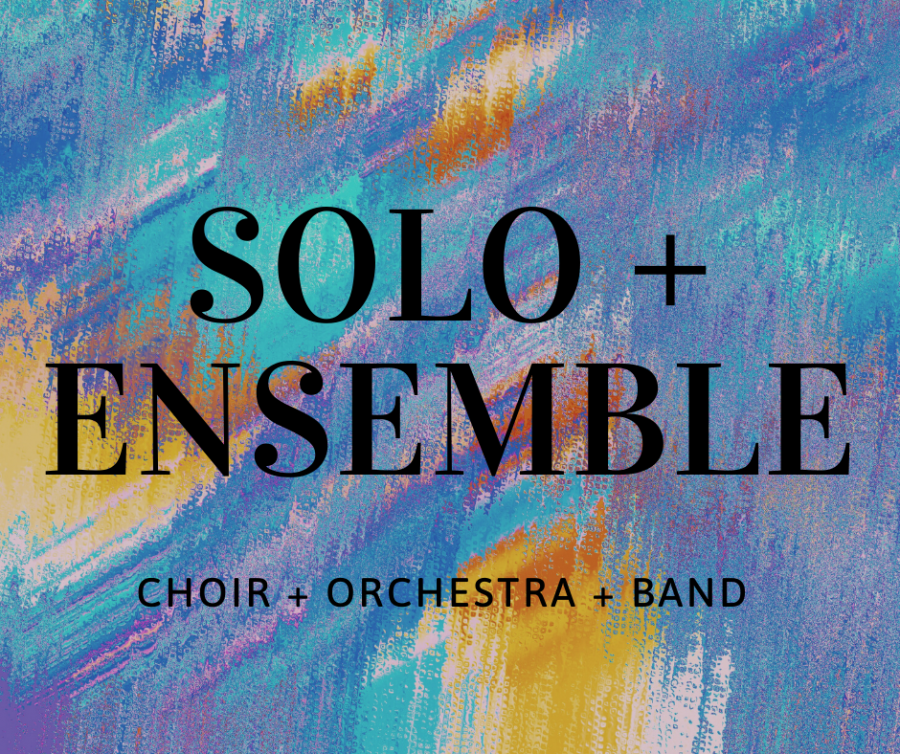 After many hours of practice, Sandie band, choir and orchestra students finally had their opportunity to compete in this year's solo and ensemble competitions. Band, which took place at WTAMU in Canyon, choir, which took place at Canyon High School, and orchestra, which took place at Amarillo College concluded with 123 total sandie students advancing to the state competition.
Those students competed with a solo, ensemble or both and had to receive the highest score of 1 to advance to the state level. At the state competition, participants will perform the solo and/or with the ensemble they qualified with.
"I received a 1 on my solo, which is the highest you can get" senior choir member Elizabeth Wright said. "It means a lot to me since it is my senior year and my last time I will be able to compete."
Wright continues to say this will be a special experience because she has spent many years working on her voice and music skills to get to this point. She hopes to earn constructive criticism that will help her to improve her musical skill and technique for the future. Other students feel the same way. 
"It's so awesome to feel musical growth and watch my friends experience the same thing" sophomore band member Seth Meason said.
He goes on to explain that he knows what to expect at the state level because of his advancement in past years, and that he can only prepare for a contest like this through a lot of hard work and dedication.
"I honestly didn't think I was going to advance with a solo but I'm so glad that I went for it" junior orchestra member Sarah Boydston said. "Doing a solo has really helped me with my memory work."
Boyston states that she practiced close to an hour a day to prepare for her audition. She worked hard on solo memorization in order to better perform for the Solo and Ensemble state judge.
The Texas State Solo and Ensemble Competition will take place at The University of Texas in Austin starting June 1st.
The following students, grade level indicated by number following name, received a score of 1 on their solo or ensemble.
Choir Soloists:
Lillie Blankenship (10)
Grant Denny (11)
Ava Drolet (10)
Hannah Felker (11)
Erin Hinds (12)
Brooklyn Howard (10)
Ryan Jalbert (11)
Janie Malone (10)
Seth Meason (10)
Majorie Mendoza (10)
Robel Michael (11)
Peyton Miles (11)
Grant Miller (11)
Austen Nevarez (11)
Valerie Ruiz (10)
Craig Silvers (11)
Katie Simpson (10)
Chloe Spellmann (12)
Susanna Terrell (11)
Elizabeth Wright (12)
Orchestra Soloists:
Samar Ahmed (11)
Makayla Beebe (12)
Sarah Boydston (11)
Colin Caverly (11)
Micah Conger (9)
Camry Crawford (11)
Emily Do (10)
Minh Do (12)
Cade Foard (12)
Connor Genaw (12)
Jessica Liu (12)
Jack Milligan (9)
Chuong Nguyen (11)
Han Nguyen (9)
Joshua Whitley (10)
Patrick Daly- Williams (10)
Oscar Elizondo (12)
Carter Morris (9)
Amelia Tietz (9)
Rodrigo Alonzo (10)
Colton Beebe (9)
Michael Carathers (9)
Colby Cherry (12)
Vinh Do (0)
Michael Jahn (12)
Christian Morris (10)
Yasmine Pringle (11)
Ky Brandes (12)
Ryan Evans (11)
Logan Schaffer (11)
Ensemble- Treyce Money (12)
Ensemble- Rushmita Devulapalli (11)
Band Soloists:
Noah Gleisner (12)
Jaden Gurule (12)
Connor Hansen (12)
Erin Hinds (12)
Ethan Hurst (12)
Ryan Jalbert (11)
Phoebe Mahlin (11)
Seth Meason (10)
Kegan Rutledge (12) 
Ethan Spears (12)
Susanna Terrell (11)
Preecha Trakulwatanachai (12)
Raegan Tucker (9)
Band Ensembles:
Bradley Allcorn (9)
Danielle Arias (10)
Tushar Bhagat (11)
Elizabeth Bryant (11)
Aliyah Chandler (11)
Savannah Chapman (10)
Truett Corder (12)
Kellie Cox (12)
Aaron Crump (12)
Piper Fowler (11)
Paris Fox (10)
Noah Gleisner (12)
Corbin Gray (10)
Justin Green (11)
Timothy Grimes (10)
Connor Gross (11)
Laci Grosser (9)
Jaden Gurule (12)
Connor Hansen (12)
Brayden Hebbel (12)
Erin Hinds (12)
Kaci Hund (12)
Ethan Hurst (12)
Ryan Jalbert (11)
Emily Knight (12)
Mia MacLaughlin (9)
Phoebe Mahlin (11)
Taylor Martindell (9)
Mason Maxwell (10)
Ellie McCaslin (12)
Graham McFarland (11)
Seth Meason (10)
Nehemiyah Meresa ()
Hannah Morrison ()
MC Needham (11)
Morgan Patterson (11)
Austin Pounds (9)
Autumn Pounds (12)
Josiah Raab (12)
Mahiyan Rahman (10)
Donovahn Romero (12)
Kaitlyn Rubinski (11)
Kegan Rutledge (12)
Nancy Saied (11)
Dayton Scholz (11)
James Selman (11)
Cameron Seymour (12)
Ethan Spears (12)
Jack Sprague (10)
Brody Striley (12)
Jessica Tan (10)
Marcello Tortoreo (9)
Noah Wall (11)
Beth Welshimer (10)
Aaron Willis (12) 
Keith Worley (12)
Rachel Young (12)
Sophie Young (9)