One Step At A Time
Steppers Receive Full Time Teacher And New Dance Space For First Time in Organization History
After sixty-one years of Sandie tradition, the Sandie Steppers never had a dance space of their own or a full time director. This summer, the school officials announced that the Steppers would receive both. 
The Steppers were founded in 1959 by instructor Betty Jones. At the time, drill teams were not big in Texas, but Jones had high expectations and was ready to set up a team for success. Unfortunately, in the summer of 1970, Jones died unexpectedly in a car accident.  Through the years, the Steppers had numerous instructors but never a full time instructor or the resources needed to be successful until Biology teacher, Laura Smith, stepped in and became a voice for them. For two years, Smith was one of the Steppers' biggest advocates, that included setting up the process to getting them a space to dance and full time teacher, Kaylee Morrison.   
"I was very happy when I found out that Mrs. Morrison was going to be our teacher," Junior Lieutenant, Kaitlyn Willis said. "We never had someone who has taught dance and Steppers full time, so I was very excited." 
Morrison has been teaching dance in AISD for the past eight years, has earned her masters in dance, and is a former NBA Spurs Dancer. Morrison's accomplishments include creating the Palo Duro High dance team, The PD Diamonds, and acting as head coach for the WT dance team. 
"I love dance," Morrison said. "Dance and public education. Amarillo high is such a neat school with such neat traditions and to be able to come take a program that started sixty one years ago that kind of had the rug pulled out from it…I just wanted to come and take it back to where it should be as a program." 
Morrison has already been making big improvements on the dances and to the team. 
"Having Mrs. Morrison as our director is great," Willis said. "Our routines are looking very clean and crisp…She puts a lot of thought and effort into what we are going to perform." 
With this year being Morrison's first year at Amarillo High, she has many plans for the current team and the ones to come, but one of her main goals is to make everyone feel like they have a place and a purpose on the team. 
"This year I am really pumped because we have the JV team and we have our varsity Steppers and now we are going to have an elite team, so it's important for me that all students feel like they have a place in the program," Morrison said. " So if you started dancing we can develop you, and if you have been dancing and really want to be challenged we can put you on the elite team. I've met dancers who danced professionally for professional sports teams and their dance training started in public education, so I will never believe that you have to start at five years old to become a really good dancer…" 
Morrison also wants to make it a goal to honor Betty Jones and all of the alumni Steppers. Morrison has been doing research about the original Steppers and one thing that stuck out to her was the four standards that Mrs. Betty Jones had for her girls.
"The standards [Betty Jones] had are appropriate for 1961 as they are for 2021, and what I think I can do to really honor her legacy is have those standards, make it quality, make it respectable, have a great performance, have people be proud to say that they are a Sandie when they see a stepper performance," Morrison said.
Another big thing that the Steppers received this year was a dance portable.  
 "When talking to the original Steppers who danced with Betty Jones they said that finding a space was a struggle," Morrison said. "Unfortunately, it [finding a space] has been a Stepper tradition." 
 The Steppers had to find available spaces throughout the school to practice, which included the commons, cafeteria, and basketball courts. Though these spaces are large enough for great dancing, the Steppers still faced many challenges dancing in these locations.
"It was very slippery," Captain, Jayden Lucas said. "We could've had many malfunctions whenever we were in the Commons. And the Basketball courts…It was just a hassle to even get in the basketball courts." 
The Steppers were the only dance team in AISD who did not have their own dance room. The fight to get one wasn't easy, but the steppers voices were heard and they finally received what every dance team deserves… A space of their own.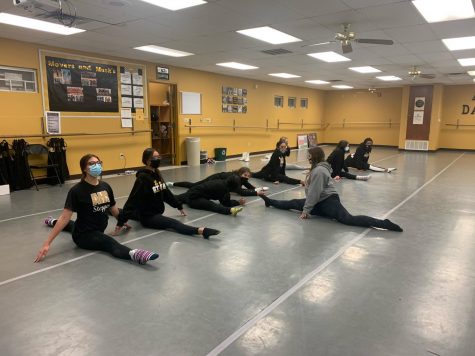 "When I found out that we were getting a portable it felt like we meant something," Lucus said. "It made us feel like we were a part of AHS."
About the Contributor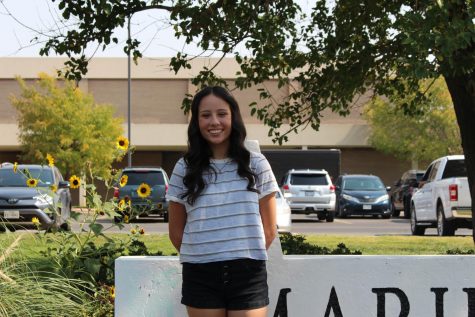 Reagan Garcia, Writer
Hi My name is Reagan, and this is my first year on newspaper staff and I am loving it so far! I wanted to be a part of this staff because I love to write...