Track Takes Area Championship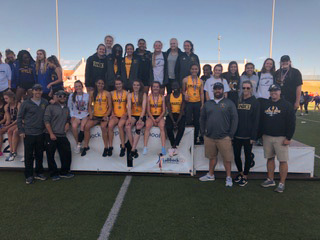 After cinching the District Championship title, the boys and girls track teams continued their winning streak by both teams becoming the Area Champions on April 18 at Lowery Field in Lubbock.
The boys team finished with a score of 141 which was 53 points over second place Aldedo. The girls finished with 171 points which was 83 point over second place Abilene Wylie.
Along with the teams advancing to the Regional meet, Individuals placing in the top four also advanced in their individual events.
For the boys: Bret Gilbert and Foster Bentley tied for 3rd in discus, Luke Ramsey placed 4th in shot put, Keaton Parker placed 3rd in triple jump, Berry Cox placed 1st in the 3200, Cooper Newson placed 1st and Berry Cox placed 3rd in the 800, Denver Talley placed 3rd in the 100 hurdles, Taevon Hood placed 1st in the 100, Damonze Woods placed 1st in the 400, Trey Thomas placed 1st in the 300 hurdles, the 400, 800 and 1600 relay teams all placed 1st.
For the girls, Payton Bray placed 2nd in discus, Taylor Mixon placed 2nd in shot put, Nyakat Ezbon placed 1st in the long jump, Nyakat Ezbon placed 1st and Brooke Urban placed 3rd in the high jump, Drew Doan placed 4th in the pole vault, Cammie Mitchell placed 4th in the 3200, Jewel Baer placed 1st and Piper Warren placed 4th in the 800, Symone Quiles placed 4th in the 100 hurdles, Bree Mixon placed 2nd and Brianna Brantley placed 3rd in the 100, Courtney Latham placed 1st and Symone Quiles placed 2nd in the 300 hurdles, Jewel Baer placed 4th in the 1600. The 400, 800 and 1600 relay teams all placed 1st.
The teams and individuals will compete in the Regional Meet on April 26-27 in at Lowery Field.