COVID-19 claimed another victim as UIL canceled the theatre department's fall production, leaving everyone involved saddened by the loss of the memories and traditions that came with it.
"I texted Mr. McFarland and I asked if he had any updates and at that point, he had said definitely no fall show and potentially no drama club," senior and Drama Club president, Klair Soukup, said. "Everything was super up in the air.
"
At first, I felt kinda defeated, it was like 'what's the point of doing this?' But you just have to be hopeful that things will get better."
— Klair Soukup
Most students, however, were not just disappointed for themselves and everything they lost, but on the behalf of the upperclassmen who missed out on one of their last opportunities in the theatre department.
"I was really bummed out, not necessarily for me because I still have more years, but my friends…who were gonna act this year, they don't get to anymore and I don't think it's fair to them," sophomore, Austin Pounds, said. "I know it's for the public health but I just wanted them to have another year." 
His concerns appeared correct as members of the graduating class expressed their own dejections, until they began putting a positive twist on the situation.
"With it being my senior year it's really hard to think about how it's basically going to be cut short," Soukup said. "I won't get to act in my fall show or do anything like that. Senior traditions aren't going to happen, but I'm really thankful for the opportunity we have to sharpen my skills. This has given me the chance to work in the technical theatre class which I am really enjoying. I never thought I would like tech but I'm really loving it, better than acting even."
This type of mindset seems to have drowned out the discouraged one that had previously taken over the department. Since finding out the unfortunate news, the students transformed their section of the school into a functional workspace. They began working on individual skills and started developing into a more cohesive unit.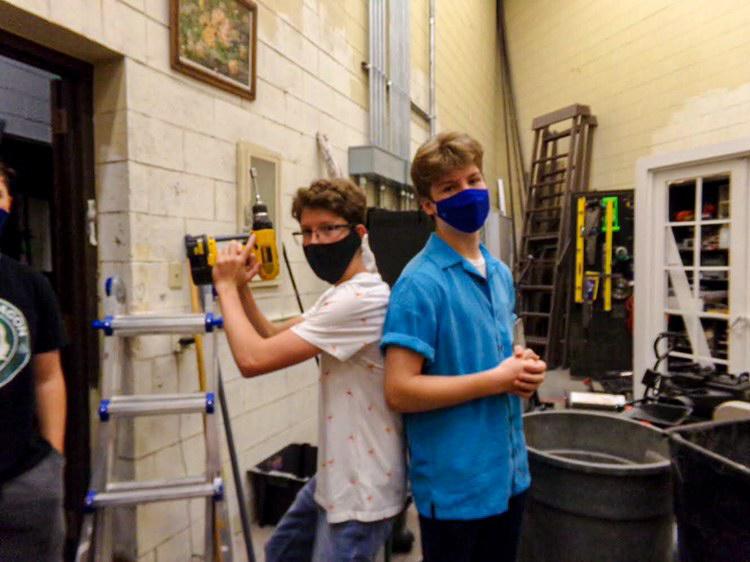 "We aren't scrambling for time like we normally are, we're a lot more organized and put together than usual," Pounds said. "We actually know what we're going to do when we walk in."
Although changes have altered the fall production, the directors are still looking toward the spring UIL One Act Play competition.
"Things change, they always do, and the best thing you can do when that happens is find out how you adapt to it," Technical Director, Michael Newman, said. "One of the things we're getting into with spring production is how to incorporate masks into the performance that way people can have them onstage if needed. Now, I don't know what the future holds, I don't know if we'll be at school by that point but when the world stops turning we're going to act like it'll continue to spin."