Thanksgiving Treats
These Three Treats Are Sure To Leave Your Guests Extra Thankful This Thanksgiving
It is that time of year! It is time to stuff our faces with yummy foods and treats. Here are a few simple recipes to serve at this year's Thanksgiving! 
Pumpkin Chocolate Chip Cookies: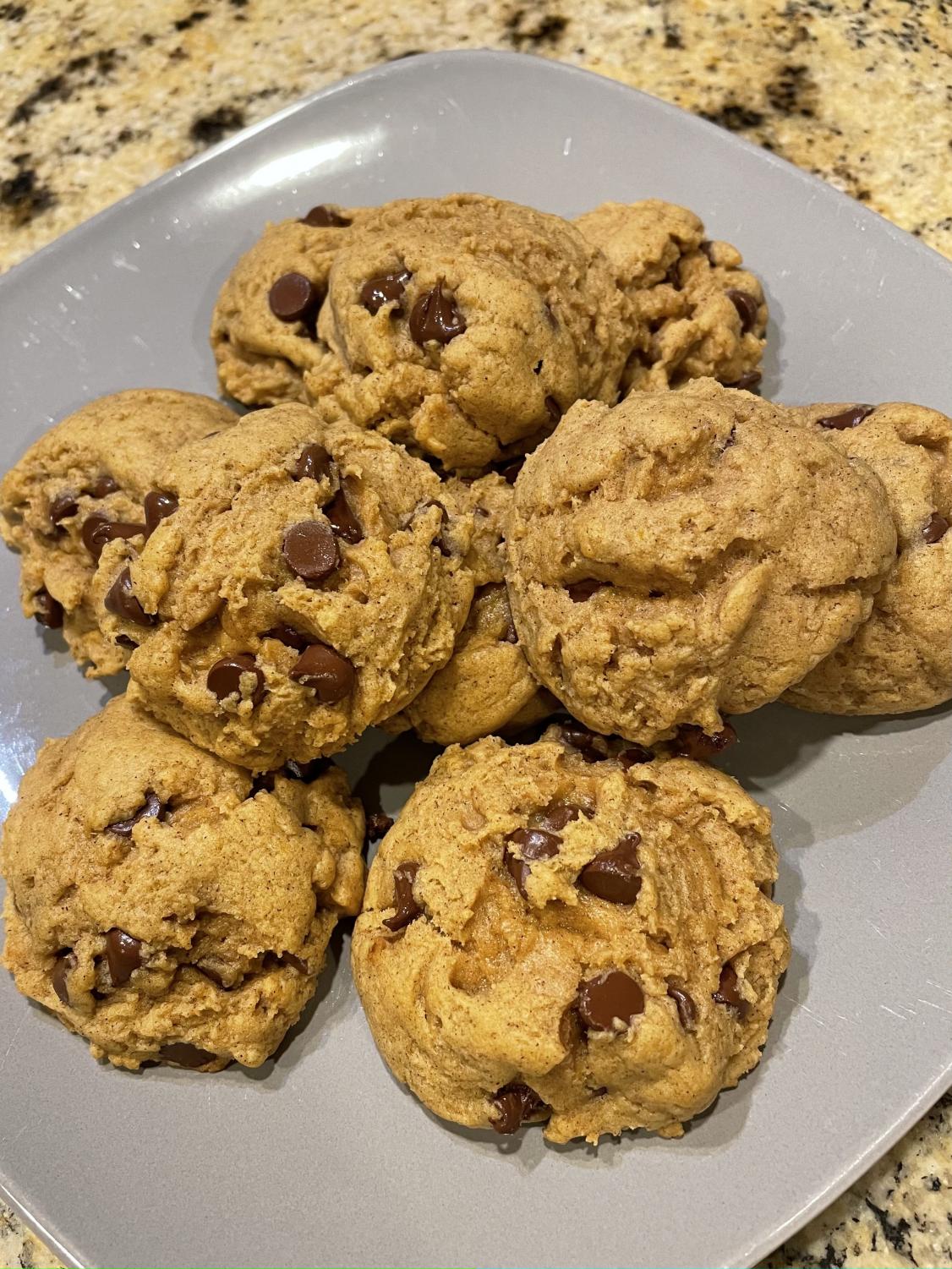 Ingredients:
½ cup (1 stick) unsalted butter, melted & slightly cooled
¼ cup packed light or dark brown sugar
½ cup granulated sugar
1 teaspoon pure vanilla extract
6 tablespoons pumpkin puree
1½ cups all-purpose flour
¼ teaspoon salt
¼ teaspoon baking powder
¼ teaspoon baking soda
1½ teaspoons ground cinnamon
¾ teaspoon pumpkin pie spice
½ cup semi-sweet chocolate chips, plus a few extra for the tops
Instructions:
Whisk the melted butter, brown sugar, and granulated sugar together in a medium bowl until no brown sugar lumps remain. Whisk in the vanilla and blotted pumpkin until smooth. Set aside.
Whisk the flour, salt, baking powder, baking soda, cinnamon, and pumpkin pie spice together in a large bowl. Pour the wet ingredients into the dry ingredients and mix together. The dough will be very soft.  Fold in ½ cup semi-sweet chocolate chips. The chips may not stick to the dough because of the melted butter, but do your best to combine them. Cover the dough and chill for 30 minutes or up to three days. Chilling the dough is imperative for this recipe.
Remove dough from the refrigerator. Preheat oven to 350°F. Line two large baking sheets with parchment paper or silicone baking mats
Roll the dough into balls, about 1½ tablespoons of dough each. Using the back of a spoon, slightly flatten the tops of the dough balls. (Without doing so, the cookies may not spread.)
Bake for 11-12 minutes or until the edges appear set. The cookies will look very soft in the center. Remove from the oven. If you find that your cookies did not spread much at all, flatten them out with the back of a spoon when you take them out of the oven. If desired, press a few chocolate chips into the tops of the warm cookies. This is only for looks!
Cool cookies on the baking sheets for at least 10 minutes before transferring to a wire rack to cool completely.  The longer the cookies cool, the better they taste! The flavor gets stronger and the texture becomes chewier. I usually let them sit, uncovered, for several hours before serving. The Chewiness and pumpkin flavor are stronger on day two.
If you want something a little more savory here's a yummy herb and cheese bread that will not fail to get a "yummy"! 
Star Bread with Cheese and Herbs
Although this bread looks intimidating and difficult, it is fairly easy and makes an impressive statement at the dinner table.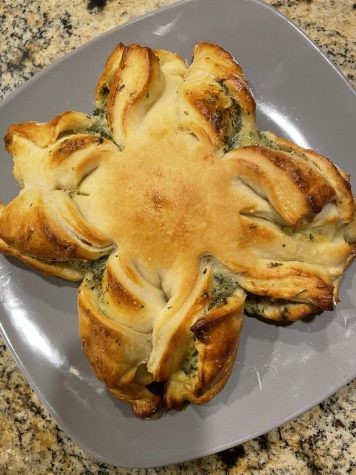 Ingredients:
Dough: 
¾ cup warm milk
3 tablespoons normal milk
2¼ teaspoons active dry yeast
¼ teaspoon sugar
4 tablespoons unsalted butter, softened
2¼ cups all-purpose flour
1 teaspoon sea salt
Filling and Finish: 
4 tablespoons unsalted butter, softened
¼ cup chopped fresh parsley
1 tablespoon dried oregano
¼ teaspoon garlic powder
¼ teaspoon sea salt
1 egg, beaten
½ cup grated Asiago cheese with rosemary and olive oil
1 teaspoon Summer Smoke Sea Salt or sea salt
Instructions 
Dough:
In a large bowl, heat milk until warm – about 30 seconds in the microwave should do. Add the yeast and sugar. Whisk together until thoroughly combined and let sit until foamy, about 10 minutes.
Add the rest of the dough ingredients (butter through salt) to the milk mixture, stirring everything until it comes together to form a shaggy ball. Then knead the dough by hand (or with a dough hook attachment) until it is smooth and elastic – this will take about 10 minutes (or less if using a stand mixer). Shape dough into a ball and place in a lightly oiled bowl, cover and let it rise until doubled in size, about one hour.
Making the filling: 
While the dough rises, combine the butter, parsley, oregano, garlic powder, and salt in a small bowl. Set aside.
Shape and bake the loaf: 
Line a baking sheet with parchment paper.
After the dough has risen, punch it down and divide into four equal pieces.
Using a rolling pin, roll one piece into a circle, about 10 inches in diameter, and transfer to the  prepared baking sheet. Brush the entire surface with the beaten egg, leaving a one inch border around the edges. Spread one third of the filling in an even layer over the top of the dough and sprinkle on one third of the cheese. Repeat with remaining portions of dough, leaving the last circle bare.
Place a two inch round cutter in the center of the stack of dough. Use a sharp knife to cut dough into 16 wedges, leaving the area inside the round cutter intact.
Using your hands, gently twist two adjacent wedges away from each other a few times and pinch ends to seal. Repeat with remaining wedges of dough.
Preheat the oven to 400 degrees.
Let dough rise for 15 minutes and then brush the top of the loaf with the remaining beaten egg and sprinkle with salt.
Bake for 15-18 minutes until golden. Transfer to a wire rack to cool.
Want something sweet and fruity? Try this delicious banana pudding with Nilla wafers! 
Banana Pudding: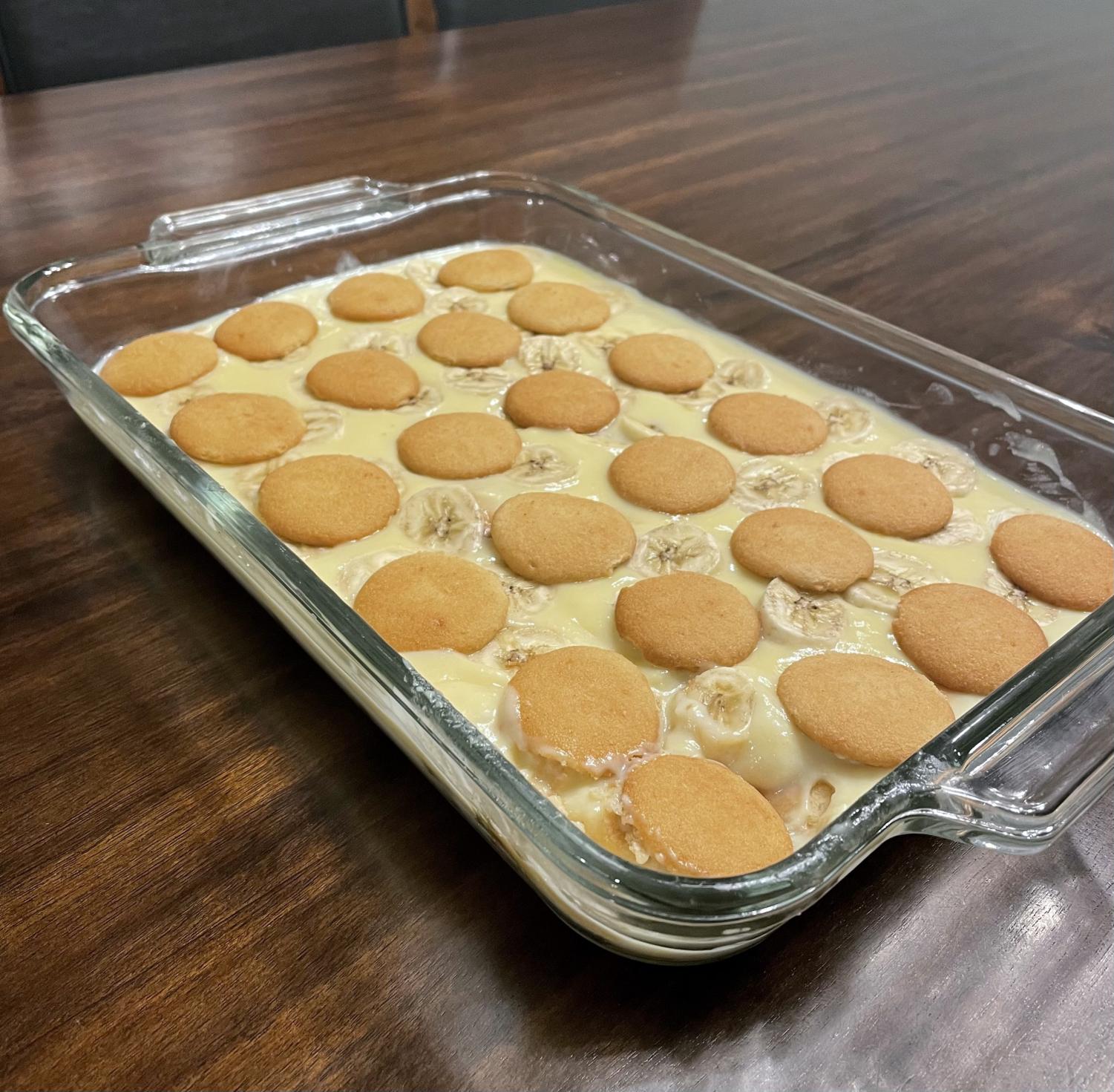 Ingredients:
⅔ cup white sugar
⅓ cup all-purpose flour
¼ teaspoon salt
3 eggs, beaten
2 cups milk
½ teaspoon vanilla extract
2 tablespoons butter, softened  
2 bananas, peeled and sliced
½ (12 ounce) package Nilla wafer cookies, or any vanilla wafer cookies. 
Instructions
In a medium saucepan, combine sugar, flour, and salt. Add eggs and stir well. Stir in milk, and cook over low heat, stirring constantly. When mixture begins to thicken, remove from heat and continue to stir, cooling slightly. Stir in vanilla and butter until smooth.
Layer pudding with bananas and vanilla wafers in a serving dish. Chill at least one hour in the refrigerator before serving
About the Writer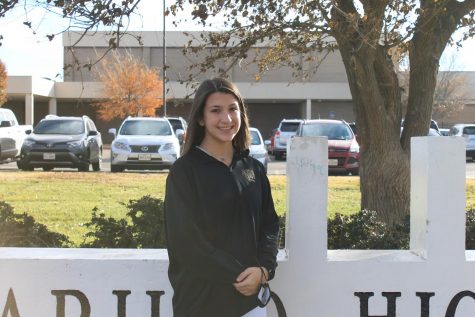 Haley Bonds, Writer/DIY Guru
Hi my name is Haley, and I'm a first year newspaper staffer! I'm on the JV cheer team and also on a competitive all-star team! I enjoy writing news stories...