Annual AHS Canned Food Drive
Annual Canned Food Drive Brings In Big Donations
For the past 77 years, Amarillo High has partnered with the Amarillo Children's Home for the annual canned food drive. In order to help supply their pantry, students around the school donated approximately 5,600 items and raised around $3,000 of donations. 
The process of collecting the cans and organizing them into certain categories, while following COVID-19 guidelines, brought challenges that the Student Council and Executive Council faced. Members of the council worked together to split and organize the cans.
"It took us a while to organize the truck because we received a lot of cans on Friday, but we stayed after school for a few hours and we organized them to where each box was filled completely," junior, Jack Liles said. "We had a point system and everyday, in the executive council period, we would go out and talk to classrooms and encourage them to bring cans."
As the Student Council worked to accumulate cans, they encountered challenges regarding the pandemic. Challenges such as following COVID-19 guidelines, getting people to donate, and limited incentives gave the Student Council and Executive Council extra work. 
"This year, there were a lot more challenges to overcome, but we found a way to work through them and still had just as successful drives as past years," Corresponding Secretary Brock Ewing said. "Challenges, such as virtual students not being able to directly participate and other problems with the pandemic, made it more challenging, but the school and community really stepped up."
With the outcome of the canned food drive, approximately 5,600 cans were collected. Stephanie Trevathan, the sponsor of Student Council, organized this event and felt overwhelmed by the outpouring of support. 
"I was really overall impressed with the outcome of the canned food drive just because of how many obstacles we ran into, and the fact that we were able to still give the Amarillo Children's Home a significant donation," Trevathan said. "I think it shows the whole school still coming together despite the incentives."
Even though there were no extra incentives, such as the hour lunch and the canned food drive assembly, students still contributed to help. Overall, the purpose of this canned food drive was to help support the community and supply those in need. 
"Helping with the canned food drive affected me personally by allowing me to see the direct impact that giving has on others," Ewing said. "We reached the same results as in past years and with all the challenges we had to face, I would call this a huge success."
About the Writer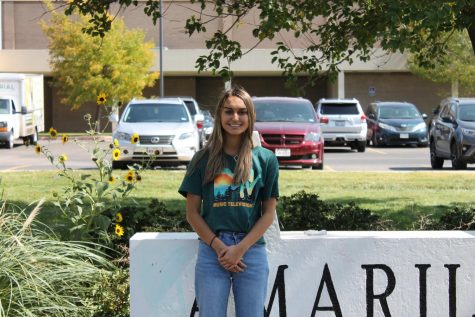 Celeste Olivarez, Writer
Hi, my name is Celeste and this is my second year being on staff! I have made some really good friends in Newspaper, and I enjoy writing feature stories....