Blue Stockings
UIL competition takes place on March 9 through 10 with the One Act Play cast and crew taking the audience through the suffragette journey in the play "Blue Stockings" by Jessica Swale.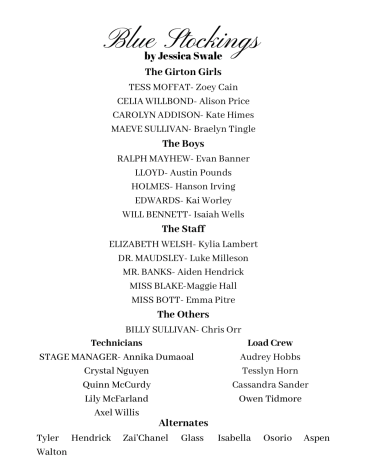 UIL challenges theater departments to create a play with a time restriction of 40 minutes and a full crew of 24 students. This includes actors, understudies, and technicians. Before the competition, the cast and crew attend clinics where they perform and three judges suggest changes to improve the production. The right play for the right actors in important for success in OAP and the seniors of the Amarillo High theater department chose the play "Blue Stockings"  as this year's play. 
"'Blue Stockings' is a story about four young scientists, who are women, seeking the right to graduate in the 1800s," Stage Manager Annika Dumoal said. "The term 'bluestocking' was actually an insult used by people who opposed the education of women."
This play was chosen over others due to the primarily female production staff along with the time period, which allows creative costumes and an ample mix of drama and comedy. This play includes the intensity of women's rights while also including light-hearted moments. 
"Bluestockings does an amazing job of showing just how much we've [women] struggled to get where we are, while also telling an incredibly personal story of a young woman striving to find her place in a world that doesn't value her." Zoey Cain, who plays Tess Moffat, said.
Knowing the intense portrayal of emotions needed in the play, the theater department had to come together as a team for the best performance possible. This bond comes from traditions and bonding activities. 
"[We hope to] do our very best and put on a show that we are proud of performing," Dumoal said. 
Much like sports and academics, the OAP must advance through many stages of competition including District, Be-District, Area, and Region. The highest competition is the coveted chance to perform at the State competition.
"Obviously, our goal is to make it to state, that's always the goal, but what excites me the most is the experiences I'll have along the way," Cain said.