With the cool weather and pumpkin spice season coming up, try these unique treats to sweeten this fall.
───────────────────────
Apple Nachos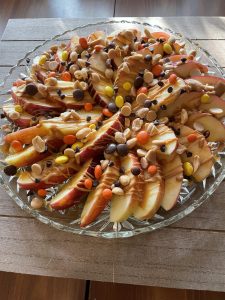 Ingredients:
2-3 apples
Peanut butter
Hershey's Caramel Syrup
Reeses Pieces
Peanuts
Chocolate and/or peanut butter chips
Note: For a peanut-free option, supplement chocolate sauce or sun butter for the peanut butter,
M&Ms for Reeses Pieces and leave out the peanut butter chips.
Instructions:
Chop up apples into slices and lay them out on a serving platter.
In a small container, put peanut butter in the microwave for 15-second increments until melted; put a preferred amount of peanut butter. Then drizzle peanut butter and caramel syrup over apples.
Lastly, sprinkle over Reeses Pieces, peanuts, chocolate chips and peanut butter chips.
───────────────────────
Chocolatey Banana Bread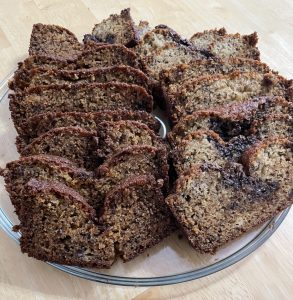 Ingredients:
2 cups sugar
2 cups flour
1 cup butter
5 eggs
6 tablespoons milk
2 teaspoons baking soda
4-5 small ripe bananas
Semi-sweet chocolate chips (optional)
Note: This will make two loaves.
Instructions:
Melt butter and use a mixer on butter, eggs, milk, bananas and sugar in a bowl.
Add flour and baking soda then mix slowly until all combined. Next, mix on a medium speed to ensure there are no big chunks of bananas.
Add batter to two greased loaf pans or one greased bundt pan. Then add chocolate chips to the top making sure there are some around the edges and not just in the middle.
Lastly, pop the bread into the oven and bake at 350 F for 60-65 minutes if using loaf pans, or 300 F for 50-60 minutes in a bundt pan.
───────────────────────
Gooey Pecan Pie Bars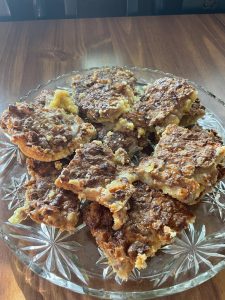 Ingredients:
Yellow box cake mix
1/3 cup butter
1 egg
1 (14 oz) can sweetened condensed milk
1 cup pecans
1/2 cup Bits O' Brickle baking chips
Instructions:
To make the crust add cake mix, softened butter and egg to a bowl and mix together.
Add all of this mixture to a greased 9-by-13-inch pan, evenly coating the bottom.
Mix sweetened condensed milk, pecans and Bits O' Brickle together in a bowl.
Pour mixture over crust and spread evenly.
Place in the oven and bake at 350 F for 25-30 minutes.