Thanksgiving Tranditions
The Thanksgiving Traditions That Make The Holiday Memorable
Thanksgiving brings sweet pumpkin pie, savory turkey, and endless hours of quality family time. When thinking about what the holiday season this year will entail, traditions quickly come to mind. Whether it be food, crafts, or football; traditions make this holiday special and memorable. Even though there are many things that could drag this holiday down, there is not reason not to overcome them and make this a unique and special holiday. 
One of the most memorable parts of Turkey Day…the turkey. Thanksgiving Day foods vary from family to family due to the diverse selection amongst different homes. Most people have foods that they eat every year on the fourth Thursday of November. The reassurance of a tradition can bring a comforting and safe feeling to those who return home each year for the big holiday meal. Whether that means Mom's homemade pumpkin pie or burgers from your hometown takeout place, Thanksgiving dinner is a special meal for all.
When thinking back to Thanksgiving as a young child, crafts quickly come to mind. Creativity can present itself in many ways while also staying in the lines of the holiday theme. Paper hand turkeys will surely put a smile on anyone's face, found not only in homes during November but in school art classes as well. Homemade crafts contain memories and serve as keepsakes over the years and most importantly, they tend to come back out as decorations each time Thanksgiving rolls around again. 
The art of making messes shows another aspect of creativity that comes out during food preparation. Art can come in the form of paper and paint as well as flour and icing. Remember to make the most of the experience and have fun with the people who bring you joy. Many blessings come in the form of friends and family; representing the true meaning of Thanksgiving.
One thing found in almost any home on Thanksgiving is the traditional football game. Football may come in the form of watching on television or playing in the backyard. This sport brings a warm feeling to the hearts of Turkey Day lovers, despite the constant tackles and takedowns. While the Macy's Thanksgiving Parade fills any room with excitement in the morning, football will almost always find a way on the big screen by the afternoon. 
Although this may come as a shock, the delicious treats do not represent the most important aspect of Thanksgiving. Remember to take the time to count your blessings and your eyes will open to a world of things worth being thankful for. Much like food, crafts, and football which add an aspect of tradition that will pass down from generation to generation.
About the Writer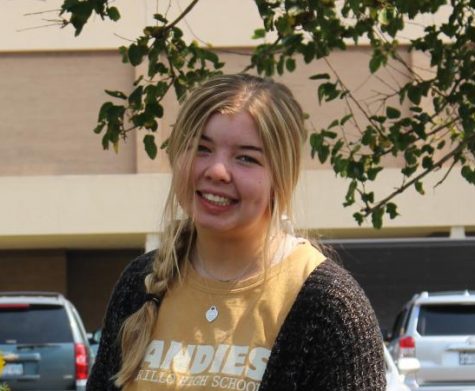 Faith White, Writer
Hi, my name is Faith White, and this is my first year on Newspaper staff! I am so excited to be involved in this fun group. I love writing about exciting...