Four orchestra members kicked off the Sod Poodle game on Sept. 1 when they played the National Anthem before the game.
The orchestra played at the game to kick off the year and help publicize their talents. Students in the quartet included senior Tesslyn Hazell, junior Jonathan Cunningham, sophomore Jeremiah Cunningham and sophomore Caylee Morris.
"It puts us [the orchestra] into the community's light and view and then they can see how young Amarillo high orchestra students not only perform but behave in a community setting and that is a big deal," orchestra director Breanna Parker said.
The radio broadcast of the game included the national anthem. The players are hoping that the audience seeing and hearing them might influence people to learn music.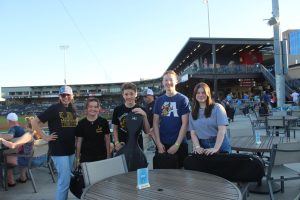 "I want people to like it, especially little kids," Hazell said. "I want them to be like 'I want to play an instrument."
Playing in front of a larger audience required the players to leave their comfort zone of a small concert setting.
"I've done many things in my life where I've had to do things in front of people so it's just another thing," Morris said. "I'm glad it's getting me out of my comfort zone."
Forming the quartet allowed students to lead and volunteer to do something they had never done before.
"[Now I want] to have people in the community know who I am." Jonathan Cunningham said.
The orchestra hopes that in future years they will continue this tradition to further push themselves to do more playing in the community and to bring string music into the lives of more people.
"I want to continue this tradition because I like the essence of playing for people," Jeremiah Cunningham said. "I get to do what I like and other people get to enjoy it."
*updated on Sept. 8 to correct a quotation*