Homecoming Queen Nominations
Nominating five senior girls and crowning one as that year's Homecoming queen is a long standing tradition. The tradition will continue by crowning a new queen at this years homecoming game.
The senior class of 2020 nominated the following candidates: 
Camryn Mitchell is a member of the Executive Council, PALS, the varsity cross country and track teams, as well as being a co-chair for the student lead organization Rescuing Leftover Cuisine (RLC). She spends her extracurricular time with organizations such as Fellowship of Christan Athletes (FCA) and Hidden Falls Ranch. Mitchell hopes that through her nomination, she will be able to represent Amarillo High School and have the opportunity to make new memories throughout this process. One piece of advice she offers for the rest of the student body is to "Enjoy who you're with while enjoying where you are." Next fall Camryn plans to run cross country and major in physical therapy at the University of Colorado at Colorado Springs or Texas Christan University.
Anna Sanders is a member of National Honor Society, the PRO internship program and Student Council. Outside of school Sanders works with the fourth through sixth grade ministry at Trinity Fellowship and volunteers at local non-profits such as Faith city mission and Hope Choice. Sanders is honored to represent her school and the school spirit and traditions she loves that define what it means to be a Sandie. One piece of advice she offers to the student body is to "Get involved, be yourself, and walk confidently in who you are." Next Fall Anna plans to attend Texas Tech or Baylor majoring in Pre-Med.
Jentry Edwards is a varsity softball player as well as a member of Student Council and National Honor Society. Outside of school, Edwards plays softball for American Freedom club softball, is a Symphony Guild belle, a leader for FCA and is a member of First Baptist Church and its youth choir. Edwards says that her Sandie spirit runs deep, and loves that she has received the opportunity to be a part of such and important tradition and represent the school. One piece of advice she offers to the student body is to enjoy every day because high school goes by fast. Next fall Jentry plans on attending college and majoring in nursing.
Gracie Reed is a member of National Honor Society, Ken club, Student Council, and also is in the top 10% of the class of 2020. Outside of school Reed loves attending local sporting events and works both as a nanny and at the local restaurant Sakura. Reed says that being nominated for Homecoming Queen is something that she has dreamed of since freshman year and thinks it crazy that her freshman year dream is becoming true. One piece of advice she offers to the student body is to "Cherish every moment that you have with the people you love."
Kennedy Royal is a captain of the Sandie swim team and a member and leader of student led organization RLC. Outside of school Royal is involved with Paramount Baptist Church and its home group Bible studies and works as a counselor at Hidden Falls Ranch in the summer. Royal says that she is surprised and honored for the opportunity to be nominated. One piece of advice she offers to the student body is to "Be sincere and have confidence in who you are."
School wide voting will take place Thursday October 19th and the winner will be announced at Fridays homecoming game during halftime.
About the Writer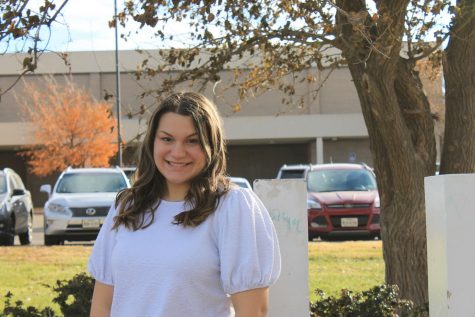 Lauren Girty, Editor
Hi, My name is Lauren and this is my second year on staff and my first year as an editor!  I love being on staff because it is such a great community...