AHS Falters in Season Debut Against Midland Lee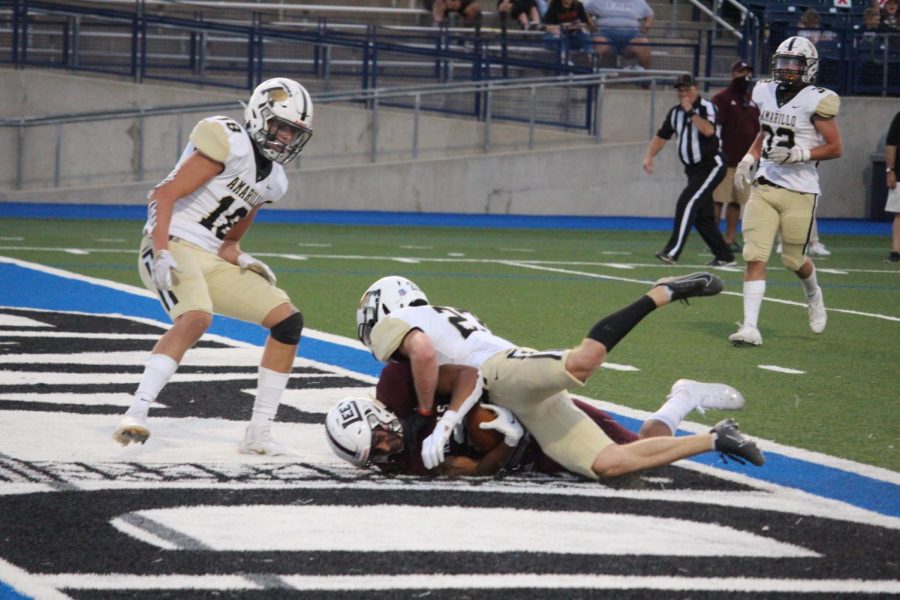 There were plenty of extravagant fireworks for everyone to enjoy at the season-opening battle between the Midland Lee Rebels and the Amarillo High Sandies. The teams combined for 94 points and 988 yards from scrimmage as both defenses struggled to contain the high powered offenses. The Sandies would come up short in this shootout with a final score of 54-40. 
Midland Lee quarterback Mikey Serrano started off the scoring with a 13 yard touchdown pass to Michael Valles, putting the rebels up 7-0. Unfazed, Amarillo High quarterback Will Maynard delivered a strike to Davin Lemmons for a 64 yard touchdown. Serrano would find Christian Romero for back-to-back scores, putting the Rebels up 22-7. With Midland Lee's offense looking unstoppable, Maynard and the Sandies needed to answer back and they did just that with a 63 yard touchdown dart to Lemmons. After such a high scoring affair in the first quarter, both defenses tightened up before halftime. Amarillo High allowed a 6 yard Makhilyn Young rushing touchdown but also forced a safety late in the 2nd quarter, making Midland Lee's lead 30-19 at the half.
The Maynard-Serrano show continued in the second half as Maynard connected for two more scores and Serrano threw another touchdown to Romero. Heading into the fourth, the Sandies trailed 40-33. Makhilyn opened the 4th quarter with an 8 yard score, increasing the Rebel lead to 14. Maynard continued to take shots downfield finding Jameson Garcia for a 21 yard score, but it was all she wrote for the Sandies as Shemar Davis found the end zone putting the dagger in the Sandies and a week one loss.