No-Bake Christmas Treats
These Easy Christmas Goodies Are Sure to Brighten Your Holiday
At this time of year, families come together to celebrate, laugh, and eat. Christmas treats play a major part of the holiday season, and what can beat easy, no bake Christmas treats?
This Christmas snack is the perfect snack for guests to munch on throughout the night: Christmas Snack Mix. For this recipe, you will need pretzels, Chex Rice Cereal, M&M's, and a vanilla almond bar. Start off by pouring all the dry ingredients into a bowl and mixing them around. Now, take your almond bar and microwave it until melted. After your almond bar has melted all the way, cover it all over your dry ingredients. Place your mix on some parchment or wax paper and let it sit for one hour to let the almond bar harden on your mix. 
This next recipe is an easy on-the-go Christmas treat with only three ingredients: Frosted Covered Rice Krispie Treats. For this recipe, you will need Rice Krispie Treats, white chocolate, and some Christmas sprinkles. Start off by melting your white chocolate. Once your white chocolate has melted, place half of your Rice Krispie Treat into the melted chocolate. After dipping your rice krispie treat into the chocolate, place it on parchment or wax paper and sprinkle some Christmas sprinkles on your treat. Leave your treats to sit for about one hour or until the chocolate has hardened. 
For the last Christmas treat you will need Oreos, cream cheese, and chocolate. Place your Oreos in a plastic bag and smash them until all they turn completely into crumbs. There should be no big chunks. Start mixing your Oreo crumbs and cream cheese together. Make sure your cream cheese has softened because if the sour cream feels too cold it will not mix very well. After mixing, roll your Oreo and cream cheese mixture into small balls and set on parchment paper and place in the freezer for 15 minutes. While waiting for your Oreo balls to freeze, microwave your chocolate until melted. Once your balls have frozen, place them into your chocolate with a fork. Make sure the balls have completely froze before you dip them in chocolate. Place your Oreo balls on a cookie sheet and finish them off with a chocolate drizzle on top or with some crushed peppermints. Let them sit for an hour and now you have Oreo balls. 
The final step for all these recipes is to set them out for all your guests, sit back, and enjoy the flavors of Christmas. 
About the Writer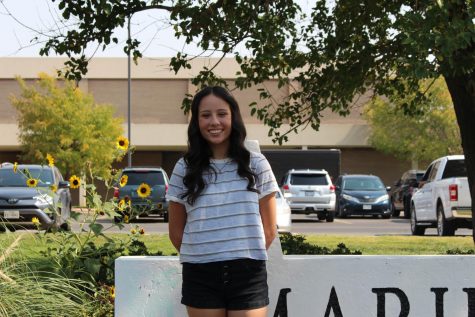 Reagan Garcia, Writer
Hi My name is Reagan, and this is my first year on newspaper staff and I am loving it so far! I wanted to be a part of this staff because I love to write...