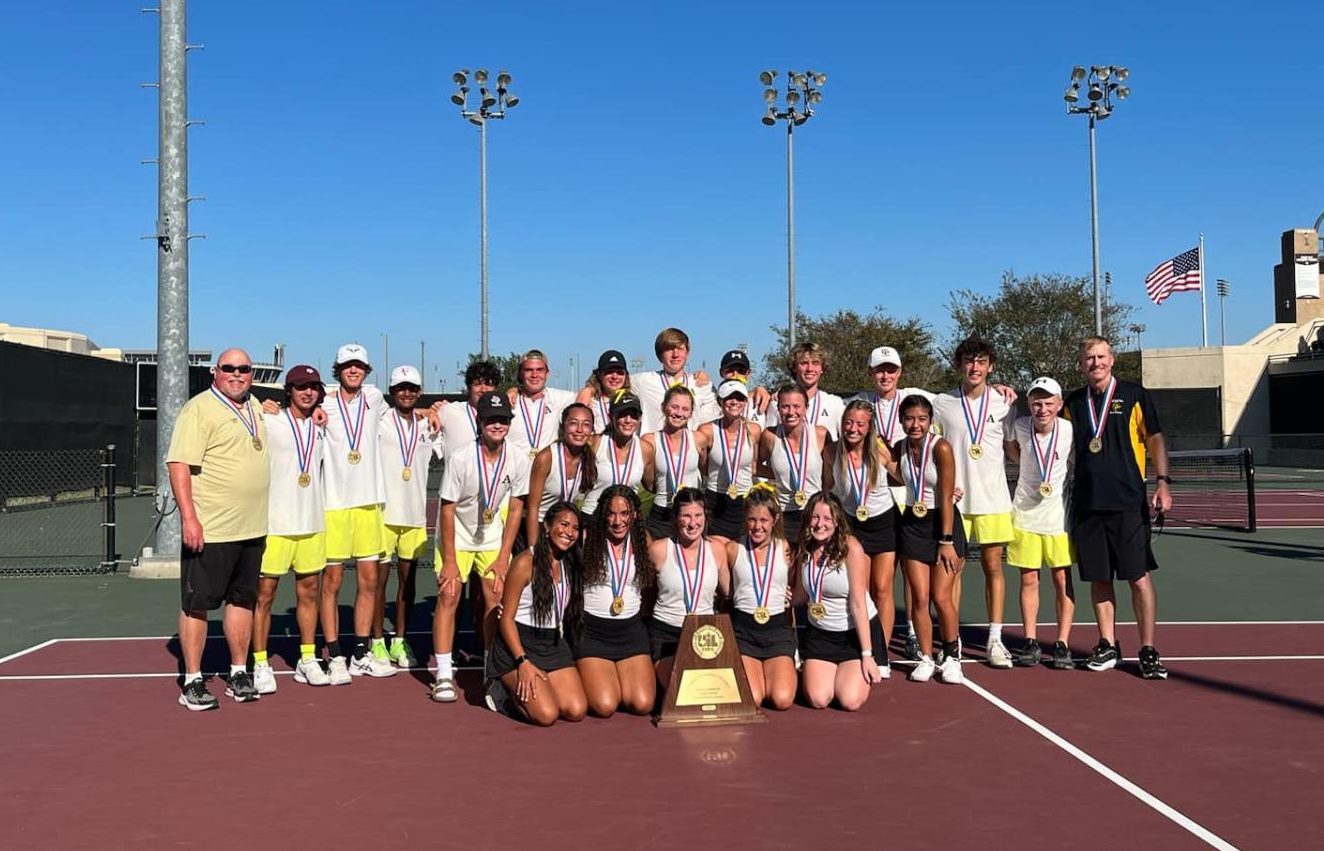 Varsity Tennis worked hard all season to make history. On October 26-27 the Sandies traveled to Texas A&M University to compete with the best in the state, emerging victorious. 
The Sandies Tennis team won their first ever state title, by defeating Frisco Centennial with a score of 10-7. To get to state they worked hard to win District, Bi-District, Area, Regional-Quarterfinals, Regional Semifinals, Regional Finals and State Semi-Finals. 
"First and foremost, these players and coaches are State Champions, and nothing will ever change that," Head Coach Koby Otto said. "The players learned that by working together and becoming a part of something bigger than themselves, they can accomplish great things."
Going to State proves to be a huge milestone in the player's journey. Hard work and determination allow each player on the team to compete at the highest level. 
"We were very fortunate and blessed to get to enjoy this experience," Assistant Coach Timothy Whitecotton said. "I couldn't be more proud of our kids. They've worked extremely hard to get where they're at and it feels good to watch them earn this achievement."
In the regional quarterfinals, the team defeated the number one seed in the state, Abilene Wylie, and beat Lubbock High in the Regional finals with an impressive score of 11-1.
"The regional quarterfinals was the changing point in our season," Junior Morgan Rose said.  "We defeated Wylie which was ranked number one in the state. This was when our team really came together and utilized the energy from that win."
This team overcame last year's loss and set the goal of winning state for the first time. The hardships of last year brought the team together, allowing them to be stronger this year.   
"After losing to Abilene Wylie in 2021 in the Regional Quarterfinals, we began preparing for this playoff run at that moment," Otto said. "I tailored our practices to defend against Wylie and other quality programs that were successful against us. We still focused on what we do so well, but added alternate game plans we could call upon when needed."
Tennis' year-round schedule allows the player to perform as a team in the fall and individually in the spring. Winning the state competition as a team will encourage the Sandies to excel individually as well. 
 "We are going to be very confident going into the Spring Season," Whitecotton said. "Our tennis players really came together as a team this Fall and proved what they are capable of. It should definitely translate into success individually this Spring."
Coach Otto has put his heart and soul into Sandie Tennis for years and this year his hard work paid off this year. The 2022-2023 tennis team will forever go down in history as the first team to win State in Sandie history. 
"I am so proud of this group of young men and women who bought in 100% to what we do at practice and the overall culture in our program," Otto said. "Being in a successful program is not easy.  We are fortunate to be at Amarillo High School where success is the standard, not the exception."