Getting In The Gear
What Students Need To Know Going Into The New Year
Students went home for Spring Break not knowing what to expect. One week of Spring Break turned into two, and a few weeks of virtual school turned into the rest of the school year. While many are still at home waiting out the storm, many students and staff members were anxious to get back and start another school year. This year will undoubtedly look very different, but the new rules and procedures make sure we have a fighting chance to finish out the 2020-2021 school year.
First and most importantly, a mask mandate and safety procedures have been put in place to keep teachers, students, and staff safe. Everyone on campus needs to wear a mask at all times, covering both their mouth and nose. Other procedures, such as keeping to one side of the hallway and washing/sanitizing your hands 2-3 times a day, can help slow the spread and keep students in school. Freshmen who eat lunch on campus may take their mask off to eat but need to put their mask back on and move to the commons or courtyard when they finish eating. 
No one likes to wear a mask all day, not hug our friends, or not shake hands with our teachers, but for now students need to follow these rules in order to keep everyone who walks the halls safe.
The second way this school year has been modified is the addition of a district wide policy for automatic locking doors. This change may prove a little inconvenient, but it will provide both students and teachers with an added layer of security. If locked out and needing to re-enter the building, buzz in at the office and they will help get students back into the building. To avoid this altogether, students need to make sure they use the bathrooms located in their hallways and get to class on time.
In order to get to class on time, students need to familiarize themselves with this year's new bell schedule. The school day starts a little earlier and ends a few minutes later, so if students are not already familiar, it is beneficial to finally learn.
Despite all of these changes and procedures, in-person class finally happening is a step in the forward direction, and if we continue to follow these changes, both students and staff are sure to have a great year.
Posted Below:
 – 2020-2021 School Year Bell Schedule
-Canvas how to videos https://youtu.be/x3j8V-uLkNw 
-Ticketing information for upcoming sports https://youtu.be/ac2BdcTfRVQ 
– Google form to purchase student parking pass https://docs.google.com/forms/d/e/1FAIpQLSehHuROSIhbcmDD0bmOlm-Oi6F512vzuKfVMeppHf8IWIz0Kw/viewform
– AISD COVID-19 safety plan COVID-19 Campus Safety Plan (Google Doc opens in a new window)
About the Writer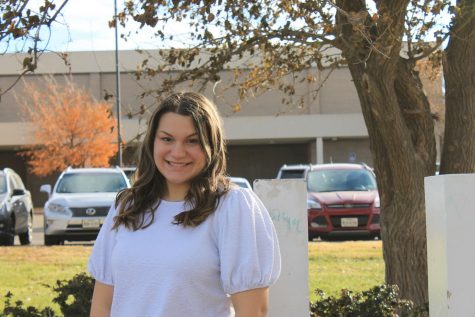 Lauren Girty, Editor
Hi, My name is Lauren and this is my second year on staff and my first year as an editor!  I love being on staff because it is such a great community...