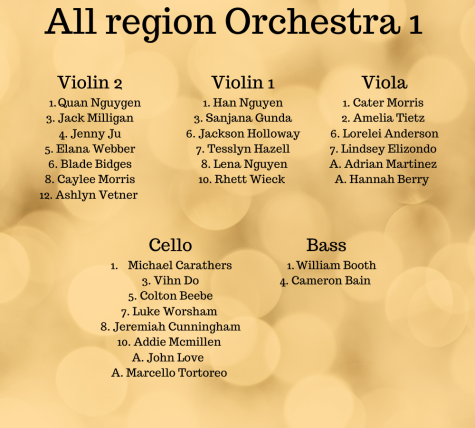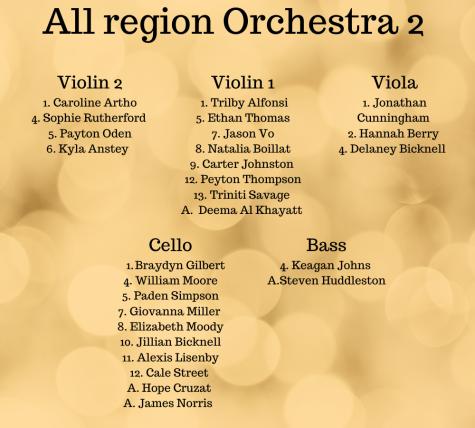 Due to this year's changes, all orchestra students had to at least audition for All-Region. Orchestra teacher Breanna Parker will celebrate her student's accomplishments after her students fill up more All-Region spots than any other high school in our town. 
Not only does All-Region give students a chance to learn harder music and to have the experience of getting involved with other musicians outside of the school but it also gives students an opportunity to show pride in their work. Colleges and music schools may look at the accomplishment of getting into all-region when offering scholarships to students. 
"When you take 52% of both orchestras, it's clearly a statement of how kids work and how much of a drive and pride Amarillo High has for competition like all-region," Parker said.
Participants walk into a room after preparing the music they received weeks or even months before and perform behind a curtain. A judge then proceeds to greet and inform them of starting their audition when ready, however, all talking with the judges remains forbidden at all times. 
"I honestly can't think of a better way that they could set it up so I have no problem with it," Freshman Quan Nguyen said.
Making All-Region is hard work. Students are playing against many who they have never heard play before, but the feeling after finding out they made it is worth it for them. 
"It's exciting because there's a lot of competition," Sophomore, Hannah Berry said.
One benefit of making All-Region involves getting the chance to meet new people and to play with others. In high school orchestra, most do not get the chance to play with people from different schools, because unlike in sports orchestra students never play with or meet most of their competition and peers. 
 "I think getting to meet new people and being able to meet them and play with them and get to know them and talk to them I think that's the best part," Nguyen said.